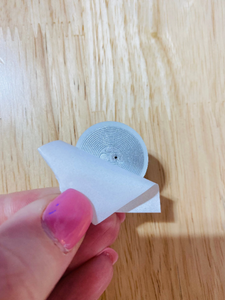 Programmed & Locked NFC Tag (Better than POPL & DOT)
- Made to order
- Dimensions: approximately 1"x1"
- NFC Sticker is programmed to point to your desired page and locked so it cannot be reprogrammed accidentally
- If ordered with a QR code that has backing, the NFC sticker will be placed between the backing and QR code
- NFC sticker is compatible with all NFC reading devices
- NFC sticker can be Dynamic using VCD managed QR code links (additional annual fee applies. Add Dynamic QR Code Service to cart.)
Email sales@vidacustomdesigns.com location NFC tag will direct to. 

Programming options:
- URL
- Social network
- Contact information
- Location
- Wifi (Android only)

Compatible with All QR Code providers:
-VCDqr.com
-Flowcode
-QRco.de
-QRSTUFF
-QR CODE GENERATOR
-GoQR.me
-beaconstac
-others


Note to buyer:
- Customer is responsible for checking the URL submitted. We guarantee our craftsmanship and the quality of our products completely and that your product will be personalized as you ordered it.
- If the requested customization is not deemed possible by Vida Custom Designs; Vida Custom Designs will refund the customer any monies paid for the existing product requested.
- It is critical to keep in mind when purchasing personalized products that each piece is unique. No two items are the same as no wood or other natural material is the same. This is what we love so much about what we do and the results we get; it will always be one of a kind! Due to each item being unique, this may cause differences in wood densities, grain color, texture, and sometimes darkness of engravings. These types of infrequencies are a natural result of using natural products and do not qualify for returns or remakes.
- You will receive a shipping notification with tracking number once your order ships.
- If you have any questions please message us prior to placing your order.
- Once we place your order in progress we cannot cancel your order.
- Verify that shipping address is entered correctly prior to placing order. Vida Custom Designs is not responsible for items being shipped incorrectly. If order is returned to Vida Custom Designs for any reason relating to incorrect address or failure to pick up package from shipped location, the customer will be responsible for paying to reship item.
- By placing order you are certifying that you have read the description fully and understand what is being ordered and agree with the terms and policies of our shop.


Return policy:
Refunds cannot be provided once orders are processed as this is a custom made item. Exchanges are only accepted when a mistake was made on behalf of Vida Custom Designs. In the event that an item was made incorrectly by Vida Custom Designs, the order will be remade as ordered and shipped to the customer. Customers may asked to provide a photo for exchange/remake consideration and receive a shipping label to return the item.